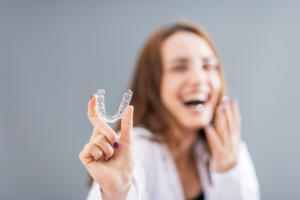 With dental technology advancing rapidly, there are more and more ways to straighten your teeth. It can be challenging to know what process will work best for you, which is why some people stick to metal braces. Here at Bella Vista Dental, we offer Invisalign! Invisalign is the latest and one of the most effective ways to straighten your teeth. It is less invasive than metal braces with brackets and wires. We have provided you with this page to help you learn more about Invisalign and how it can benefit you. If you are in Seguin, Texas, and are looking to improve the appearance of your smile, you have come to the right place! 
What is Invisalign?
Invisalign uses clear aligners to straighten your smile. With the help of impressions and digital technology, we make each set of aligners fit your teeth perfectly. The aligners progressively move your teeth into a more straight position by pushing and pulling on them. You have complete control over your treatment at all times. You collaborate with the dentist to ensure you get the outcomes you want. Getting a straight smile is now easier than ever before.
What is the Procedure?
If you decide that Invisalign is something you want to try, we'll schedule a consultation. The dentist will evaluate your oral history and the strength of your teeth during your consultation. The dentist will also discuss your intended outcomes with you and devise a treatment plan tailored to your needs. We will take digital x-rays and impressions of your teeth, which we will use to construct aligners that will force your teeth into a straight posture. Throughout the entire process and planning of your treatment, you will have control. You have a say in the ending results of Invisalign. Once the aligners are ready, you will return to the office to get your first pair at a later date! 
When you receive your first set of aligners, your Invisalign treatment will officially begin. You will wear the aligners for 22 hours a day, with only short breaks for eating and performing good oral hygiene. You should expect to visit the dentist every 3-4 weeks for a new set of aligners. Each set of aligners is designed to move your teeth closer to their ideal position. On average, Invisalign treatment lasts 7-10 months. No one will be able to know you have braces thanks to the invisible aligners, allowing you to be more confident in your braces treatment. There is no need to worry about the metal brackets, wires, and elastics. 
What are the Benefits?
Invisalign aligners are removable. This means that no foods are excluded from your diet in fear that you could break off a bracket. You can still practice good oral hygiene and speak normally. 

There is less pain and sensitivity associated with Invisalign. 

With Invisalign, you will save time! You don't need to spend forever at the orthodontist getting your braces adjusted, but you will be in and out of our office in no time. 

Invisalign does straighten your teeth, but it also works to correct any overbites and underbites. 

You can Invisalign right here at Bella Vista Dental! No need to go searching for another orthodontist when you can get treated in a place you already trust. 
At Bella Vista Dental, we are so excited to offer you Invisalign. If you are interested in Invisalign, please come see us today! There is no need to wait to straighten your teeth. We offer different financing options that will help you afford Invisalign. Contact our office today!