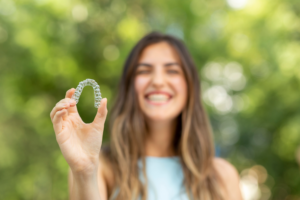 Here at Bella Vista Dental in Seguin, Texas, we are pleased to announce that we offer ClearCorrect braces! ClearCorrect is an excellent alternative to bulky, painful metal braces. ClearCorrect uses clear aligners to straighten your teeth discreetly and subtly. No one will even know that you have braces! The results are just as effective as metal braces and give you permanent results. If you are interested in ClearCorrect, we invite you to continue reading to learn more about the procedure and the benefits. If you have any questions, please feel free to reach out to us. We are eager to serve you and help you get a smile that you love!
What is ClearCorrect?
ClearCorrect is a transparent orthodontic procedure that gradually straightens your teeth by pulling and pushing them into place. Your teeth will begin to align the way you want them to, using custom-made, clear aligners that are worn regularly. We will give you additional sets of aligners as the process progresses, which will continue to reposition your teeth into a straighter position. You should anticipate receiving a new set of aligners every two weeks.
How Does the Procedure Work?
ClearCorrect Braces start with digital x-rays and impressions of your teeth, which we use to create transparent aligners that fit correctly in your mouth. The aligners result in a customized treatment plan tailored to each patient's specific requirements. To achieve the optimum outcomes, You should wear clear aligners for 22 hours every day, and the severity of your imbalance will determine the length of your treatment plan. You will return to the dentist at a later date to receive your first set of aligners and begin your treatment.
What is the Difference Between ClearCorrect and Invisalign?
ClearCorrect aligners are made out of a lighter material than Invisalign. This means that the aligners are thinner and more discrete. The more lightweight material also means that ClearCorrect treatment will last a couple of months longer than Invisalign to get the same results. When you come in for a consultation for ClearCorrect or Invisalign, the dentist will talk to you about each process and help you decide what will be best for you. It is our priority to give you the best treatment results possible.
Benefits
Many adults opt to go with ClearCorrect because it is nearly impossible to see the aligners in their mouths. ClearCorrect does not interfere with your daily life or draw unwanted attention to your smile.
The aligners are removable, which means no foods are off-limits! You can still enjoy all of your favorite foods while straightening your teeth and practicing good oral hygiene at the same time.
You can save a lot of time with ClearCorrect with fewer and shorter visits to our office to advance in your treatment. There is no adjusting of wires or brackets!
If you are looking for a minimally invasive and comfortable way to straighten your teeth, then ClearCorrect is for you. We invite you to come into our office today to learn more about this treatment. At Bella Vista Dental, we offer several different procedures to help you get the smile you have always wanted. If you are in Seguin, Texas, contact us today!