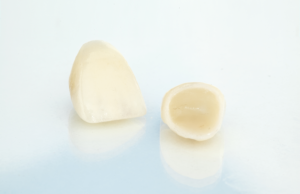 We all desire a perfect smile, and it's essential to maintain good oral hygiene to achieve it. However, accidents and dental issues can sometimes be unavoidable, leading to damaged or decayed teeth that need attention. Our team at Bella Vista Dental offers a range of options for restoring damaged teeth. Thankfully, our dental crowns in Seguin, Texas, provide a reliable solution for many dental problems. 
Dental crowns are particularly effective for repairing heavily damaged teeth. Dr. Lara Perry and Dr. Quintanilla may recommend this treatment for various purposes. We invite you to contact our office today to look into getting a dental crown and schedule your next appointment with our dentists. We'll provide you with everything you need to know about dental crowns to help you make an informed decision about your oral care.
What Are Dental Crowns?
Dental crowns are tooth-shaped caps placed over your damaged teeth, covering up the visible portion of the tooth. They are usually made of various materials, such as porcelain, metal, or ceramic, and are customized to match the color and shape of your natural teeth. Dental crowns aim to restore your tooth's functionality, strengthen it, and improve its appearance.
Why Do People Need Dental Crowns?
There are various reasons why people need dental crowns, including:
A broken or chipped tooth – a crown can cover the damaged tooth, allowing for full functionality while improving its appearance.
A decayed tooth – when a tooth has decayed beyond repair, a crown can help save it.
A discolored tooth – if you have a tooth that does not match the rest of your teeth, a crown can be used to match the color of your natural teeth.
A dental implant – a crown can cover a dental implant.
What is the Process of Getting a Dental Crown?
Getting a dental crown involves two visits to your dentist. The first visit involves preparing your tooth by removing any decayed material and shaping the tooth to accommodate the crown. Your dentist will then take impressions of your tooth and send them to a dental lab to create a custom crown. You'll leave the office with a temporary crown while you wait for the permanent crown to be made. During the second visit, your dentist will replace the temporary crown with the permanent one, ensuring it fits perfectly.
How Long Do Dental Crowns Last?
Dental crowns generally have a lifespan of between 5-15 years, depending on the care given to them. With good oral hygiene practices such as regular brushing and flossing, avoiding hard or sticky foods, and seeing your dentist twice a year for cleanings, your crown can last up to 15-20 years.
What Are the Benefits of Dental Crowns?
Dental crowns provide numerous benefits, including:
Durability and strength – dental crowns are solid and durable, allowing for everyday functionality.
Improved appearance – dental crowns are customized to match the color and shape of your natural teeth, improving your smile's appearance.
Protection – crowns protect your teeth from further damage or decay.
Comfort – crowns feel comfortable and natural once placed in your mouth, allowing you to eat and drink without pain or discomfort.
Dental Crowns in Seguin
In summary, dental crowns are a fantastic solution for many dental problems. While they may be a bit more expensive than other treatments, they are a long-lasting and effective option to improve your dental health and enhance your smile's appearance. 
Now that you know everything about dental crowns, we hope that you feel confident in your decision-making process for your oral care. Always consult your dentist to determine if a dental crown is the right solution for you.